I have developed an online course for improving speaking skills. The objective of my course is to reach out to overly busy adult learners who are employed by big and/or small companies both in Uzbekistan and abroad and help them improve their English-speaking skills.

Over the past many years, I have observed that these members of our society struggle with spoken English but possess an immense desire to learn, upgrade their skills, and grow within their contexts. However, because of their time constraints, hectic lifestyles and many other professional and personal obstacles, they simply cannot physically manage to attend the courses offered by the learning centers operating across our city. To make things even worse, most of the language centers are also unwilling to educate such learners as they are not stable in their attendance, homework, and course completion.

The online speaking course that I have designed and developed addresses the most of the pain points of this particular group of learners. Let me explain them one by one:

Geography is not an Obstacle: Because the course is online, now these professionals don't have to commute from their place of work to an educational establishment. This is perhaps one of the biggest challenges that they have. Unfortunately, most of the people in Uzbekistan don't have a strong sense of time value, proper time management skills, or a high sense of efficiency at work, so they are often seen working beyond the normal working hours as well. As a result, they may not be able to leave their workstations at 18:00 and reach their classroom within an hour. This way, geography usually becomes a problem when adult learners take offline evening classes and this creates both short-term and long-term challenges both for the learners and the educators.

Late Online Classes: On the positive front, because the course I have developed is online, I am planning to offer it during the late evening time slots, which I think will be between 20:00 and 22:00 at the latest. This time slot has proven itself to be the most optimal, realistic, and comfortable when I taught groups of my students online during the COVID-19 restrictions. Why was this the case? This is because already busy professionals who are willing to work on their language skills usually manage to arrive at their homes at about 19:00, refresh themselves, interact with their family members, and relax a bit before committing to some cognitive but fun-based academic activity.

Manageable Homework: Another challenge these types of learners often face is their inability to devote enough time to their homework tasks given by their tutors. Although they mostly would like to complete all of their tasks and show up for the lessons fully prepared, their full-time work, busy schedules, and hectic lifestyles don't always allow them to do so. Therefore, they often fail to accomplish their tasks in a timely manner and have to face disappointing consequences, such as, for example, being dismissed from the courses they currently take.

One-hour Sessions: To make the course even more adult-friendly, I decided the most optimal time period for each session with my students will be 1 hour, but upon the students' request and the dynamic of the learners, the 1-hour time can also be extended to 1.5 hours. I believe that one hour of online instruction will be more than enough, as the course I have developed is geared towards improving mostly the speaking skills of my learners. Moreover, because my students will be working professionals who are exposed to screens almost all day long, it is also important that the course I am offering exercises healthy and safe practices and doesn't harm anyone at any cost.

The course consists of 4 sections at the moment, with each section having its own central theme, as shown below:
Course Structure
In the image above, you can see that the theme of Section 1 is 'advice', so all the exercises, activities, videos, audios, articles, and quizzes are all based on that very theme.
Each section is divided into sub-sections as follows: section-1 -->1.1 --> 1.2 --> 1.3 --> 1.4 --> 1.5 --> 1.6 and organized as follows:
· Sub-sections-1.1, 1.2, 1.3: Short video discussion
· Sub-sections-1.4, 1.5: Article discussion
· Sub-section-1.6: Podcast creation and discussion
Now let's explore each section and tasks one by one.
Short Video Discussion
Once the students join the course, they are asked to access Sub-section 1.1 and complete a task before watching the video (see above).

As you can see, the task is very simple, straightforward, and not time-consuming for working professionals who would like to improve their speaking skills after their long working hours.


So, they answer the question shown in the card above and submit their response in the comments section (see above).

Once they submit their responses, their teacher will then receive their entry on the other end and grade their submission.
As soon as this sub-section 1.1 is fully completed, the next sub-section 1.2 will be unlocked for the students to access the respective content. In the newly unlocked sub-section, students are instructed to watch a short video, which typically lasts from 3 to 5 minutes, take notes, and answer the questions on the next sub-section (see above).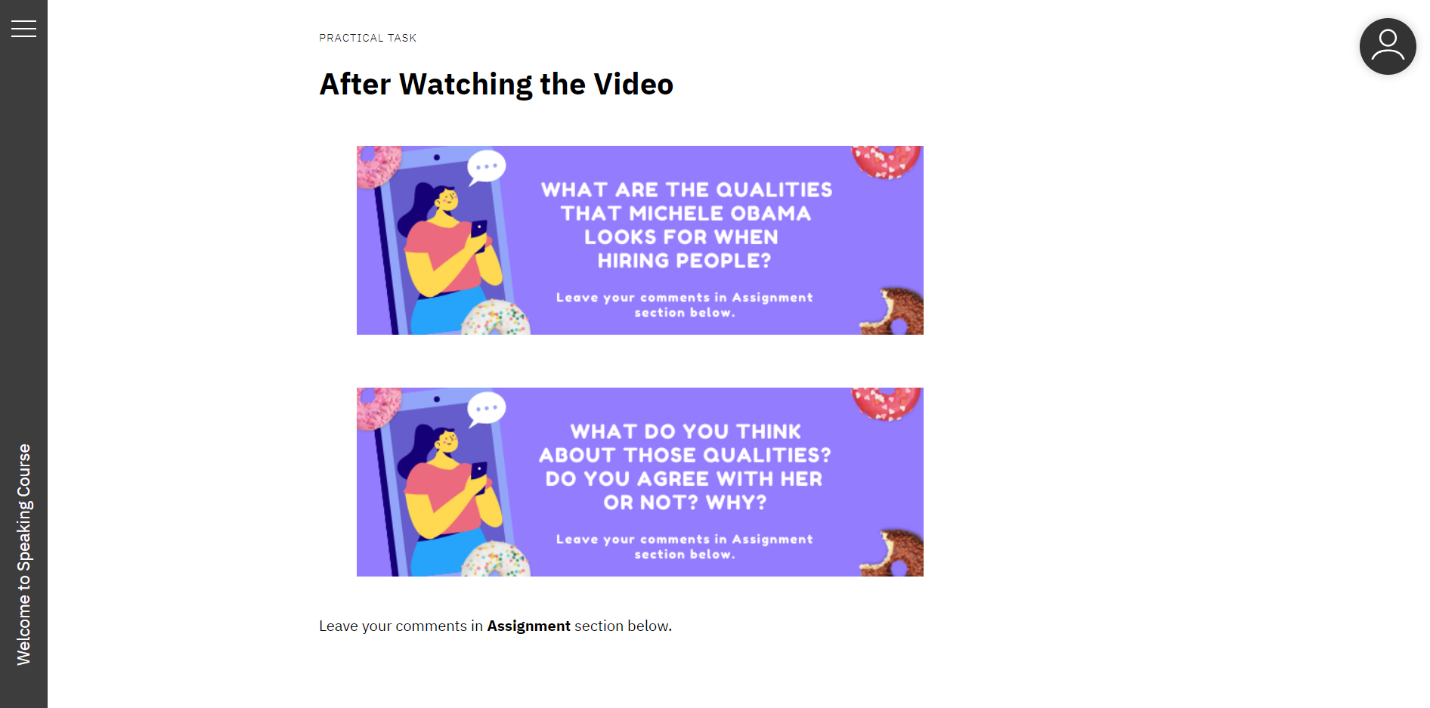 Next, they submit two more responses after watching the video, and then have a 1-hour online interactive Zoom webinar session with their teacher where they discuss their own responses they have submitted before and after watching the video, as well as the content of the actual video itself.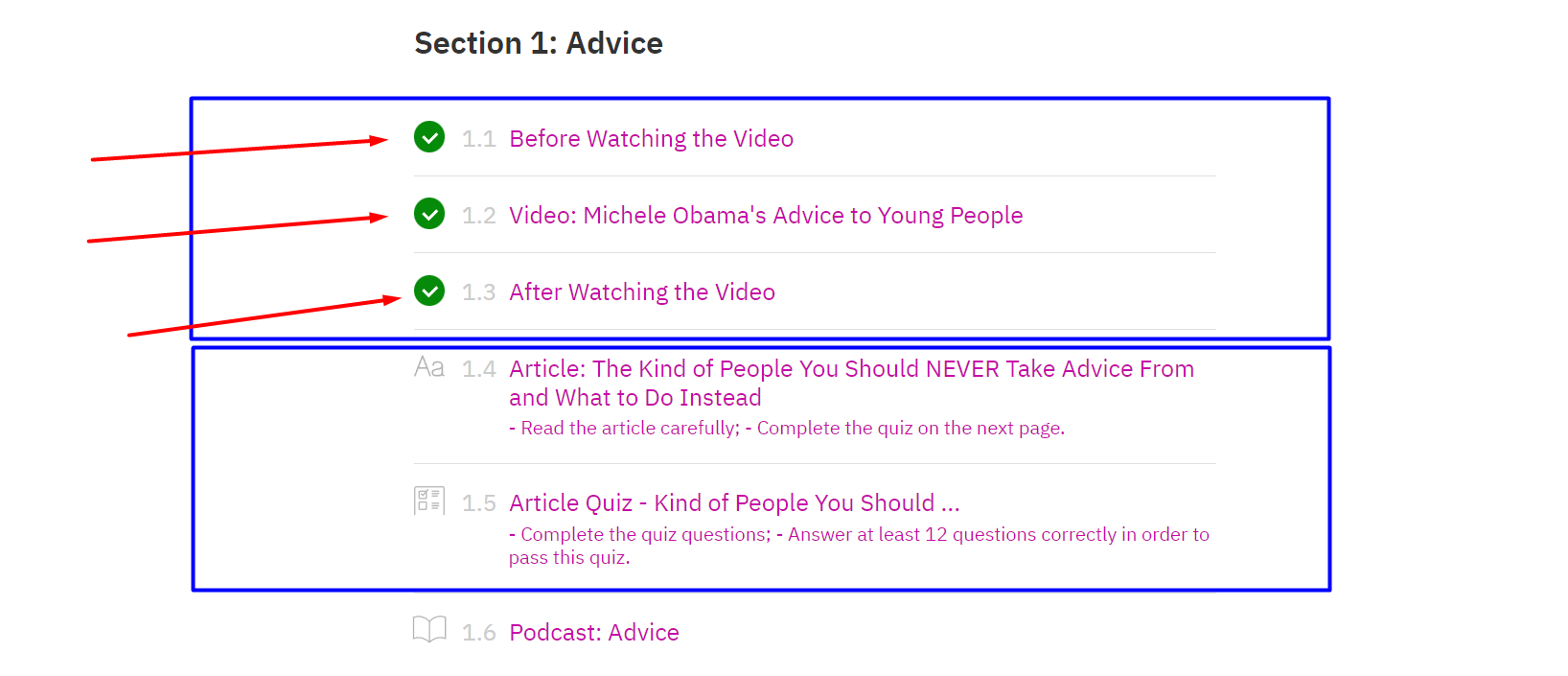 Please notice that those completed sub-sections are verified with green ticks, indicating to the students that they did complete those tasks and need to get ready for the new tasks in the following sub-sections.
Article Discussion
After having finished the first online Zoom webinar of the week, the students are then asked to read an authentic article on the topic of advice and complete the quiz created based on the article. The quiz usually consists of 10–15 questions, and in order to proceed to the next sub-section, the students are expected to answer at least 90% of the questions correctly.
To keep all the tasks simple, straightforward, and less time-consuming for the students, all the quiz questions for the articles are multiple-choice questions at the moment, but more variety of questions may be created and offered as the students slowly progress through the course content and become more demanding.
Once the students successfully pass the quiz, the next sub-section will be unlocked for them, and a green tick verifying that they have covered the respective sub-section will now be activated.
After the students have read the article and completed the quiz, they have the second interactive Zoom webinar session of the week with their teacher. During their webinar session they discuss the key, interesting, and controversial points of the article and their responses to the quiz as well.
Podcast Creation & Discussion
On the next sub-section-1.6, students listen to a podcast with several questions on the topic of advice, recorded by myself both in video and audio formats.
In this sub-section, students are asked to full-fill the following tasks (hyper-links are active):
Submit your recording link in Assignment section.
PDF Materials with Questions
This PDF material consists of 10-15 questions. Students download the document, familiarize themselves with the questions, prepare their responses and then either opt to listen to an audio or watch the video podcast.
Audio Podcast
When they play an audio podcast, they will listen to me reading the questions out loud to them, pausing after each question for several seconds, depending on the complexity of the given question.

During the pausing period, students are expected to speak up and record their responses on their devices.
Video Podcast
Alternatively, they can also opt for the video version of the same podcast content and record their responses on their own devices.
Audio & Video Podcasts With Same Content?
I decided to give my students the option to choose. Some may find audio content more useful than video content because they can record their responses on the go as well. If they, however, prefer to see the actual host and experience a more or less personal and face-to-face environment, then they may utilize video podcasts as well. This was the rationale behind all of my efforts.
Voice Recorder
In order to record their voice responses, students click on the hyperlink record your speech, and they will be taken to Sodaphonic, which is an online audio recorder and editor. This platform was chosen specifically because it is simple to navigate and use.
In order to record one's voice, a person clicks on a Get Started button, and the platform records his or her voice. When it is all done, the student ends the recording and shares the shareable link to the recording.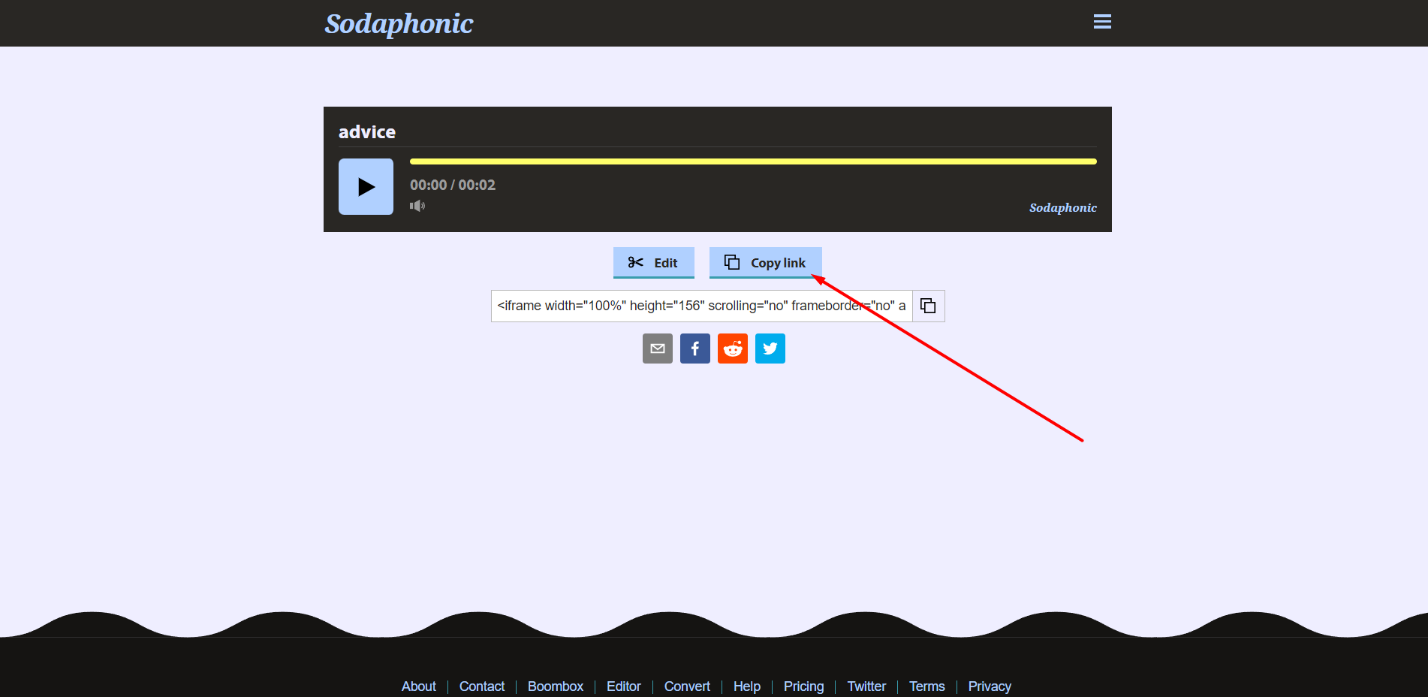 The link to the recording can be obtained below the student's own recording, as shown above.
The student copies the link, pastes it in the assignment box above, and sends or submits his or her work for the teacher to review, grade, and provide feedback.
Why Zoom Sessions are Held
Though it is an online course designed for adult students to improve their speaking skills, it is not a self-paced, pre-recorded, and fully automated course like those offered at Corsera, an open online course provider.

When the students complete tasks in sub-sections, they meet with their peers in the same course and their teacher over the Zoom app and have one-hour speaking sessions which will consists of discussions taking place in plenary, small-group, and pairwork settings.

This will allow the course students to review the tasks they have completed, discuss everything with the real participants, and practice their speaking skills as much as possible.
Limitations of the Course
As I have mentioned above, this online course isn't self-paced, pre-recorded, pre-designed, or fully automated.

Too much depency on the teacher: Though it offers quite rich content with a lot of interesting and interactive learning materials as well as tasks, all of these tasks are designed in such a way that the teacher should explain all the instructions to his or her students and only then assign them as their homework tasks. Moreover, the course cannot be taken if the teacher is unavailable, which means students will have to be enrolled in the waiting list and wait until they are contacted and finally enrolled in the active course. This may create a bit of discomfort, both for the potential students and for me as a course designer and organizer.

More course content needs to be created: At the moment, only six sections or units have been fully created and developed. However, there are another 24 new sections or units on the agenda to make the course last at least three months and by this way allow the students to be exposed to the English language as much as possible. Although several artificial intelligence (AI) tools have been used to create the content and tasks for the first six sections or units, it still requires a lot of human efforts from me as the content developer because, with AI tools in my hands, I would like to create and offer even more content and tasks for the course students.
No physical office space: I am going to kickstart this online speaking course just as an experiment to see if there is an audience that is seriously willing to consider taking it up. At the moment of writing, I really don't know how many people will be interested in the course, but I am hoping that I can enrol at least 100 students for the start. If things unfold favorably for me, then at the beginning, one of my major limitations and obstacles will be the absence of a physical office space where I could meet some of the potential students based in Tashkent, Uzbekistan. I expect that some people would like to meet me in person before embarking on a serious academic journey outside of their hectic business hours.